WELCOME TO NORTHBOROUGH GIRL SCOUTS
INTERESTED IN JOINING GIRL SCOUT?
CHECK OUT OUR TABLE AT CURRICULUM NIGHT!
Tuesday, September 23rd from 6:30-8 PM
at Zeh, Proctor, Peaslee & Lincoln St. Schools
Click on the link below for more information!
If you can't make it on the 23rd, please contact Karen at registrar@northboroughgirlscouts.org.
CELEBRATING OUR 2014 GOLD AWARD RECIPIENTS!
First Northborough Gold Awards in 18 years!!!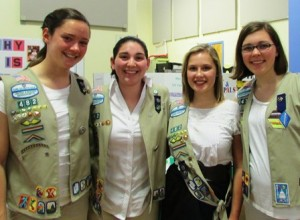 Girl Scouts is the largest girl-serving organization in the United States. We build girls of courage, confidence, and character, who make the world a better place.

Northborough Girl Scouts, a Service Unit of Girl Scout of Central & Western Massachusetts, serves over 300 girls with the help of over 60 fabulous volunteers.

We believe that one girl can make a difference,
and that girls together can change the world.
Founded in 1912 by Juliette Gordon Low, Girl Scouts' membership has grown from 18 members in Savannah, Georgia, to 3.2 million members throughout the United States, including U.S. territories, and in more than 92 countries through USA Girl Scouts Overseas.